We were very proud to have been recognized by HRTech Outlook and highlighted as the cover story of their February publication! My interview with Senior Editor, Sri Krishna focused on the HireBox testing and performance appraisals platform which we developed to help businesses expand their workforce with the right talent.
Valtin is not just an ordinary CEO; he is a 30-year veteran management consultant who authored best-selling books like "No-Fail Hiring 2.0." The man has trained over 140,000 business owners and executives in more than 35 countries and has evaluated over 25,000 applicants for almost 5,000 clients till date. That's one solid bio! My eyes then went seeking about the company Valtin owned and headed—HireBox! As it was called. On its homepage, I found yet another statement—his vision statement—"Raising Happiness in the Workplace."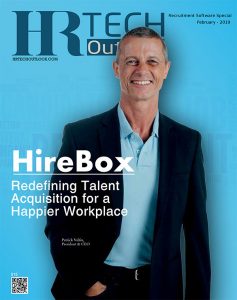 Be the Best at Hiring the Best or Simply Outsource
HireBox has two service delivery models. Businesses can either have their HR teams trained by the company or have their hiring process outsourced. Based on best practices and designed by Valtin himself, the Hire-Master program provides hands-on training to individuals, managers, CHROs, CEO or anyone involved in the hiring process. The course covers a vast range of topics on talent acquisition including rules of hiring, compliance, attracting qualified applicants, pre-selection strategy, interview techniques, on-boarding process, and much more.
The online training program includes a permanent phone coaching and support service, as well as certification for each registered person. In a nutshell, any personnel can gain recruitment expertise in just a matter of weeks by simply taking HireBox's course.
The other prong, HireBox's Recruitment Process Outsourcing (RPO) services cater to leaders who aim to hire right but do not have the time or resources to expend for it—a situation that I've been through on many occasions. Valtin shares the success story of how a young company with only three employees grew to nearly 14 employees, and dramatically expanded their activities with HireBox's RPO. HireBox offers yet another purposebuilt program to help companies hire, onboard and train sales personnel—the Sales Talent acquisition and training (STAT) program. The company helps organizations recruit qualified salespeople, officially on-board them, and educated them on the fundamentals of salesmanship to ultimately enable them to ace at work.
To request a free demo of the HireBox Pre-Hire Assessments Platform please click the link below!